Product Description
Hl Type Flexible Muff Flange Bush Flexible Elastic Sleeve Oldham Steel Disc Clamp Shaft Rigid Fcl Pin Coupling With Brake WHEEL
The characteristics of FCL Flexible Pin & Bush Coupling
(1)Coupling is simple in structure, convenient installation, easy replacement, small size, light weight.
(2)If the installation adjustment can keep 2 relative displacement within the prescribed limits, then coupling will have satisfactory performance and long service life.
(3) It can be widely applied to all kinds of medium and small power transmission shafts, such as reducer, crane, compressor, conveyor, textile machine, hoist and ball mill, which are not loaded by motors.
(4)The allowable relative displacement of the elastic sleeve pin couplings:
Radial displacement: 0.2~0.6mm angular displacement: 0 ° 30 '~1° 30'
Related products:
Production workshop:
Company information:
| | |
| --- | --- |
| Standard Or Nonstandard: | Standard |
| Shaft Hole: | 19-32 |
| Torque: | >80N.M |
| Bore Diameter: | 19mm |
| Speed: | 4000r/M |
| Structure: | Flexible |
Samples:

US$ 9999/Piece

1 Piece(Min.Order)

|
Request Sample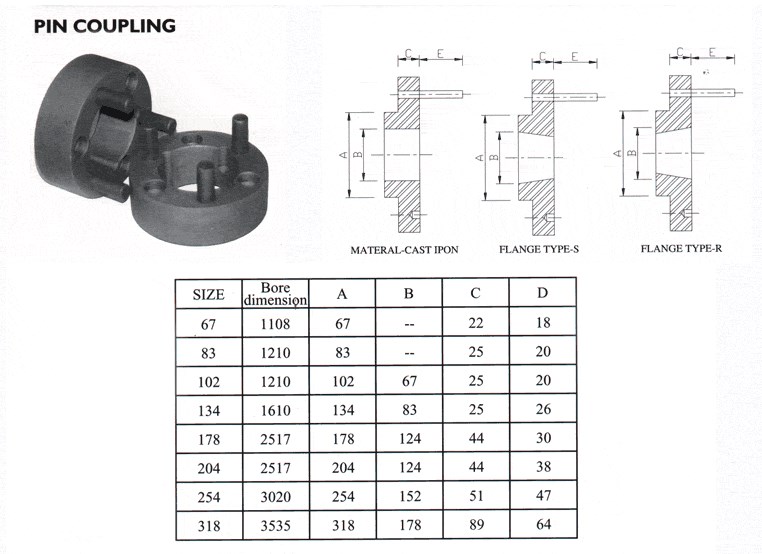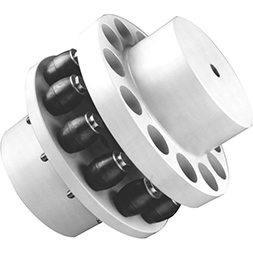 How Does a Pin Coupling Protect Connected Equipment from Shock Loads and Vibrations?
Pin couplings are designed to provide excellent protection to connected equipment from shock loads and vibrations, ensuring the smooth and reliable operation of the machinery. The unique features of pin couplings contribute to their ability to absorb and dampen shock loads and vibrations effectively:
Flexibility: Pin couplings possess a certain degree of flexibility due to the presence of movable pins. When subjected to sudden shock loads or vibrations, the pins can flex and move slightly, absorbing the impact and preventing it from transmitting directly to the connected equipment. This flexibility helps in reducing stress and minimizing the risk of damage to the machinery.
Torsional Compliance: The pin coupling's design allows for a certain amount of torsional compliance. This means that when the connected shafts experience slight misalignments or angular displacements, the pin coupling can compensate for these variations without causing additional stress or vibration in the system. This feature ensures that the machinery remains in proper alignment even under dynamic conditions, reducing wear and tear.
Damping Characteristics: The presence of movable pins introduces damping characteristics to the coupling. When vibrations occur in the system, the pins can dampen these oscillations, preventing resonance and the amplification of vibrations. This damping effect improves the overall stability and performance of the machinery.
Strength and Resilience: High-quality pin couplings are constructed from durable materials with excellent fatigue resistance. This enables the coupling to withstand repeated shock loads and vibrations over an extended period without compromising its integrity. The strength and resilience of the pin coupling contribute to the protection of the connected equipment.
Overall, pin couplings are reliable and versatile components that can effectively protect connected equipment from shock loads and vibrations. Their flexibility, torsional compliance, damping characteristics, and robust construction make them suitable for various industrial applications where shock and vibration mitigation are essential for maintaining the health and longevity of machinery and equipment.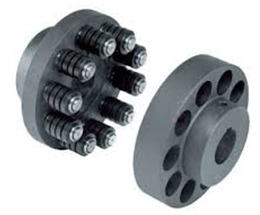 Role of Pin Coupling in Reducing Downtime and Maintenance Costs
A pin coupling plays a crucial role in reducing downtime and maintenance costs in various mechanical systems and power transmission applications. Its design and features contribute to improved reliability and ease of maintenance, resulting in enhanced operational efficiency and cost savings. Here's how pin couplings achieve these benefits:
1. Shock Absorption: Pin couplings are known for their ability to absorb and dampen shocks and vibrations generated during operation. By cushioning the impact of sudden loads or torque spikes, they protect the connected equipment from potential damage, reducing the frequency of unexpected breakdowns and downtime.
2. Misalignment Tolerance: Pin couplings can tolerate a certain degree of misalignment between shafts, such as angular and parallel misalignment. This flexibility allows for easier installation and alignment of equipment, saving time and effort during setup and reducing the need for precise alignment procedures.
3. Low Maintenance: Pin couplings are designed with simplicity in mind, often consisting of only two coupling halves connected by pins. This straightforward construction means fewer components that can wear out or require regular maintenance. Additionally, the flexibility of the pins helps reduce wear on the coupling and connected equipment, leading to longer maintenance intervals.
4. Easy Replacement: In the event of a failure or wear, pin couplings are relatively easy to replace compared to some other coupling types. The simplicity of their design allows for quick disassembly and reassembly, minimizing downtime during maintenance or replacement procedures.
5. Cost-Effective: The combination of low maintenance requirements and reduced downtime translates into cost savings for businesses. With fewer unexpected breakdowns and lower maintenance expenses, the overall cost of ownership for systems employing pin couplings can be more economical.
6. Reliability: Pin couplings are known for their reliability and durability. When properly selected and installed, they can provide long service life without frequent replacements, contributing to stable and consistent system performance.
By minimizing downtime, maintenance efforts, and associated costs, pin couplings are a preferred choice in various industrial applications. However, it is crucial to ensure that the pin coupling is correctly sized and installed, and regular inspections and maintenance are conducted to maximize its benefits and prevent premature failure.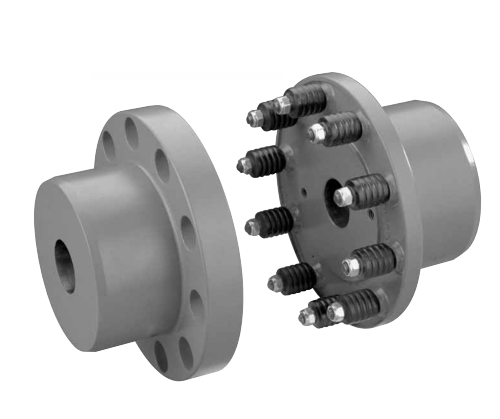 Can Pin Couplings Handle Misalignment Between Shafts?
Yes, pin couplings are designed to accommodate a certain degree of misalignment between shafts in rotating machinery. They are considered flexible couplings, which means they can provide some degree of angular, parallel, and axial misalignment capability.
Pin couplings typically consist of two hubs, each connected to a shaft, and a central sleeve with pins that transmit torque between the hubs. The pins allow for a limited range of movement, which helps to compensate for slight misalignments between the shafts.
The angular misalignment capacity of a pin coupling is achieved through the bending of the pins. When the shafts are misaligned at an angle, the pins on one side of the coupling experience bending while those on the opposite side are in tension. The pins are designed to withstand these bending and tension forces within their elastic limits, ensuring proper functioning and longevity of the coupling.
Similarly, the pins can accommodate parallel misalignment by sliding within the pin holes of the coupling's central sleeve. This sliding action allows the hubs to move slightly relative to each other, compensating for any offset between the shafts.
However, it is essential to note that pin couplings have limitations in terms of the amount of misalignment they can handle. Excessive misalignment beyond their specified limits can lead to increased wear on the pins and other coupling components, reducing the coupling's effectiveness and potentially causing premature failure.
While pin couplings are suitable for applications with moderate misalignment requirements, they may not be the best choice for applications with significant misalignment or where precise alignment is critical. In such cases, more flexible couplings like gear or elastomeric couplings may be more appropriate.
Overall, when considering the use of pin couplings, it is essential to carefully evaluate the specific misalignment requirements of the application and select a coupling that can adequately accommodate those misalignments while ensuring reliable and efficient power transmission.



editor by CX 2023-08-03