Product Description
Cone Ring flexible coupling,
1. The coupling consists of 2 hubs: One pin hub with the corresponding pins and a bush hub.
2. The torque is transmitted via the steel pins with their taper elastomer rings and the corresponding bores  
     in  the bush hub.
3. The couping is maintenance-free an is used in general engineering and the pump industry.
4. Customized requirement is available.
| | | | |
| --- | --- | --- | --- |
| size | Torque/Nm | Kw/100 RPM | Max Speed RPM |
| 571 | 50 | 0.56 | 6500 |
| 030 | 110 | 1.2 | 5470 |
| 038 | 190 | 2 | 5260 |
| 042 | 290 | 3 | 4750 |
| 048 | 480 | 5 | 4050 |
| 058 | 760 | 8 | 3600 |
| 070 | 1000 | 11 | 3220 |
| 075 | 2600 | 27 | 2730 |
| 085 | 3500 | 37 | 2480 |
| 105 | 5300 | 56 | 2100 |
| 120 | 9000 | 94 | 1880 |
| 135 | 12223 | 128 | 1660 |
| 150 | 16000 | 167 | 1520 |
ZheJiang Shine Transmission Machinery Co., Ltd is specialized in manufacturing and selling transmission products.
Our products are exported to the world famous machinery company in Europe, America, South Africa, Australia, Southeast Asia etc.
Our main products include: European pulley, American pulley, Couplings, taper bushing, QD bush, lock element, adjustable motor base, motor rail, sprockets, chain, bolt on hubs, weld on hubs, jaw crusher equipment & spare parts and all kinds of non-standardcasting products etc.
 
| | |
| --- | --- |
| Standard Or Nonstandard: | Standard |
| Shaft Hole: | 38/32mm |
| Torque: | 110 |
| Bore Diameter: | 38/32mm |
| Speed: | 5470 |
| Structure: | Flexible |
Samples:

US$ 0.00/Piece

1 Piece(Min.Order)

|
Request Sample
Customization:

Available

|

Customized Request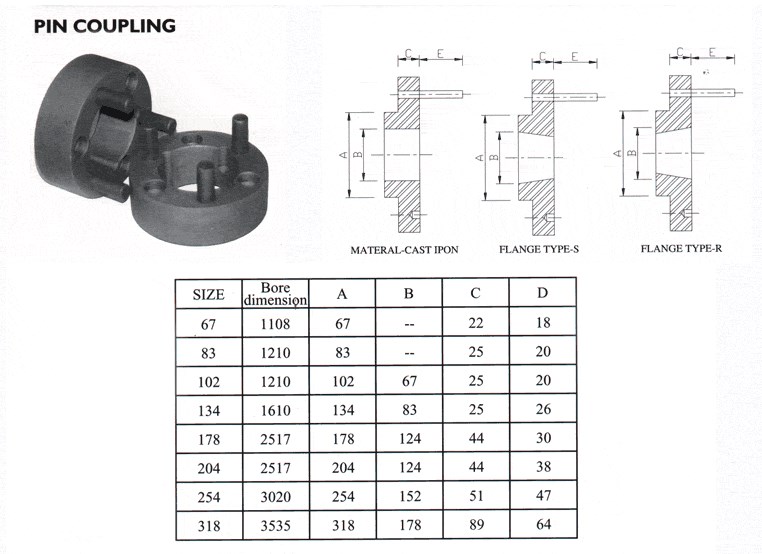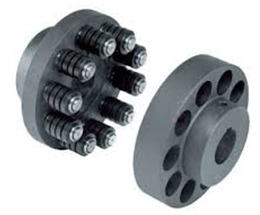 What Are the Maintenance Requirements for Pin Couplings?
Pin couplings are known for their simplicity and ease of maintenance. Regular maintenance helps ensure the longevity and optimal performance of pin couplings in various mechanical systems. Here are the key maintenance requirements for pin couplings:
Lubrication: Most pin couplings require periodic lubrication to reduce friction between the pins and the coupling hubs. Lubrication helps prevent wear and corrosion, ensuring smooth operation.
Inspection: Regular visual inspections are essential to identify any signs of wear, misalignment, or damage. Inspecting the pins, coupling hubs, and surrounding components can help detect potential issues early on.
Torque Check: It is crucial to periodically check and retighten the bolts or screws that secure the coupling to the shafts. Loose fasteners can lead to misalignment and coupling failure.
Alignment: Proper shaft alignment is critical for the effective functioning of pin couplings. Regularly check and adjust the alignment if necessary to minimize wear and vibrations.
Environmental Protection: In harsh environments or corrosive conditions, take measures to protect the pin coupling from contaminants or chemicals that could cause damage.
Replacement of Worn Components: When any of the coupling components, such as pins or hubs, show signs of significant wear, they should be replaced promptly to prevent further damage.
It is important to follow the manufacturer's maintenance guidelines and recommendations for the specific type of pin coupling used in the application. Regular maintenance not only ensures the smooth operation of the coupling but also helps prevent unexpected breakdowns and reduces the risk of costly downtime. Proper maintenance can extend the service life of pin couplings and contribute to the overall reliability of the connected equipment.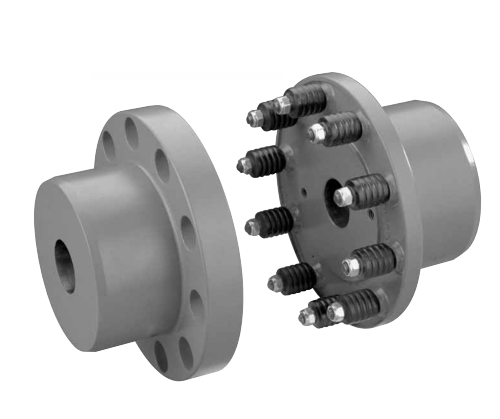 What Industries Commonly Use Pin Couplings for Power Transmission?
Pin couplings are widely used in various industries for power transmission due to their ability to accommodate misalignment and provide reliable torque transmission. Some of the industries where pin couplings are commonly employed include:
1. Manufacturing: In manufacturing processes, pin couplings are used in conveyor systems, mixers, agitators, and other machinery to transfer power between motors and driven equipment.
2. Pulp and Paper: The pulp and paper industry uses pin couplings in machinery such as pumps, fans, and rotary kilns for continuous power transmission.
3. Chemical and Petrochemical: Pin couplings find applications in chemical processing plants, refineries, and petrochemical facilities for various rotating equipment.
4. Water and Wastewater: Pin couplings are used in water treatment facilities, pumps, and blowers to transfer power efficiently.
5. Steel and Metal Processing: Steel mills and metal processing plants utilize pin couplings in rolling mills, extruders, and other equipment.
6. Food and Beverage: Pin couplings are employed in food processing machinery, packaging equipment, and conveyor systems.
7. Mining and Quarrying: The mining industry uses pin couplings in crushers, conveyor belts, and various mineral processing equipment.
8. Oil and Gas: Pin couplings are used in the oil and gas sector for pumps, compressors, and drilling equipment.
9. Power Generation: In power plants, pin couplings are used in turbines, generators, and other power transmission systems.
10. Construction and Heavy Equipment: Pin couplings find applications in construction machinery, earthmoving equipment, and other heavy-duty machinery.
11. Agriculture: In agricultural machinery, pin couplings are used in tractors, irrigation systems, and grain processing equipment.
These are just some examples of the industries where pin couplings are commonly used. Pin couplings offer versatility, ease of installation, and reliability, making them suitable for a wide range of applications in different sectors where power transmission is essential.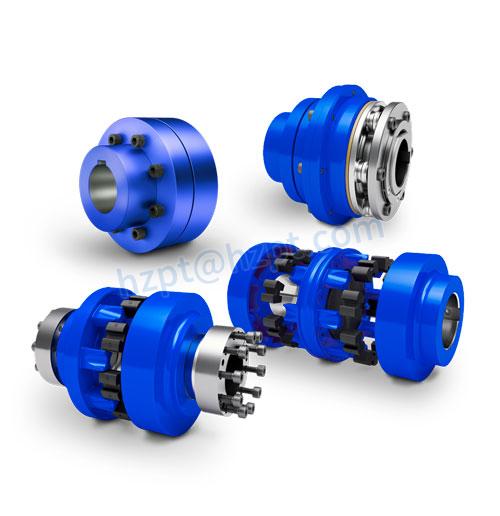 Advantages of Using Pin Couplings in Mechanical Systems
Pin couplings, also known as shear pin couplings, offer several advantages when used in mechanical systems. These advantages make them a popular choice for various industrial applications:
1. Overload Protection: Pin couplings are designed to provide overload protection to connected equipment. In case of excessive torque or sudden shock loads, the sacrificial pins will shear off, preventing damage to the shafts and other components.
2. Misalignment Tolerance: Pin couplings can accommodate a limited amount of angular misalignment between the shafts. This helps to compensate for minor misalignments and reduces the stress on the connected equipment.
3. Cost-Effective: The shear pins used in pin couplings are relatively inexpensive compared to other coupling components. In the event of a failure, replacing the damaged pins is a cost-effective solution, avoiding more significant repairs to the main equipment.
4. Easy Replacement: After shearing, the damaged pins can be quickly and easily replaced. This leads to reduced downtime and lower maintenance costs in the long run.
5. Versatility: Pin couplings are suitable for a wide range of applications, including pumps, compressors, fans, and other industrial machinery. Their ability to handle varying operating conditions makes them versatile in different environments.
6. Shock Load Absorption: Pin couplings can absorb and dissipate shock loads effectively. The shear pins act as a buffer, protecting the equipment from sudden impacts or overloads.
Despite their numerous advantages, it is essential to consider the limitations of pin couplings as well. They have lower torque capacities compared to some other coupling types, such as gear couplings or rigid couplings. Additionally, the need to replace shear pins after each failure may lead to more frequent maintenance requirements in applications with frequent overloads or misalignments.
In conclusion, pin couplings provide reliable torque transmission and safety features, making them a valuable component in various mechanical systems. Their ability to protect against overloads and accommodate misalignments makes them a practical choice in a wide range of industrial applications.



editor by CX 2023-08-11