Product Description
Product Description
LX Type Flexible Pin Bush Couplings (GB/T5014-2003)
Product Parameters
Note:
N.m= Norminal Torque; rpm= Allowable speed of rotation; d1.d2.dz= Diameter of shaft hole; Y J J1 Z= Length of shaft hole;
Allowable compensation amount(axial, radial, angular); kg.m²= Rotational inertia; kg= Mass
The rotational inertia and mass of the coupling are calculated according to the combination form of J/Y shaft hole and the minimum shaft hole.
Company Profile
HangZhou CZPT Machinery Manufacturing Co., Ltd. is a high-tech enterprise specializing in the design and manufacture of various types of coupling. There are 86 employees in our company, including 2 senior engineers and no fewer than 20 mechanical design and manufacture, heat treatment, welding, and other professionals.
Advanced and reasonable process, complete detection means. Our company actively introduces foreign advanced technology and equipment, on the basis of the condition, we make full use of the advantage and do more research and innovation. Strict to high quality and operate strictly in accordance with the ISO9000 quality certification system standard mode.
Our company supplies different kinds of products. High quality and reasonable price. We stick to the principle of "quality first, service first, continuous improvement and innovation to meet the customers" for the management and "zero defect, zero complaints" as the quality objective. 
Our Services
1. Design Services
Our design team has experience in Cardan shafts relating to product design and development. If you have any needs for your new product or wish to make further improvements, we are here to offer our support.
2. Product Services
Raw materials → Cutting → Forging →Rough machining →Shot blasting →Heat treatment →Testing →Fashioning →Cleaning→ Assembly → Packing→ Shipping
3. Samples Procedure
We could develop the sample according to your requirement and amend the sample constantly to meet your need.
4. Research & Development
We usually research the new needs of the market and develop new models when there are new cars in the market.
5. Quality Control
Every step should be a particular test by Professional Staff according to the standard of ISO9001 and TS16949.
FAQ
Q 1: Are you a trading company or a manufacturer?
A: We are a professional manufacturer specializing in manufacturing various series of couplings.
Q 2: Can you do OEM?
Yes, we can. We can do OEM & ODM for all customers with customized PDF or AI format artworks.
Q 3: How long is your delivery time?
Generally, it is 20-30 days if the goods are not in stock. It is according to quantity.
Q 4: Do you provide samples? Is it free or extra?
Yes, we could offer the sample but not for free. Actually, we have an excellent price principle, when you make the bulk order the cost of the sample will be deducted.
Q 5: How long is your warranty?
A: Our Warranty is 12 months under normal circumstances.
Q 6: What is the MOQ?
A: Usually our MOQ is 1 pcs.
Q 7: Do you have inspection procedures for coupling?
A: 100% self-inspection before packing.
Q 8: Can I have a visit to your factory before the order?
A: Sure, welcome to visit our factory.
Q 9: What's your payment?
A: T/T. 
 
♦Contact Us
Web: huadingcoupling
Add: No.11 HangZhou Road,Chengnan park,HangZhou City,ZheJiang Province,China
| | |
| --- | --- |
| Standard Or Nonstandard: | Nonstandard |
| Shaft Hole: | as Your Requirement |
| Torque: | as Your Requirement |
| Bore Diameter: | as Your Requirement |
| Speed: | as Your Requirement |
| Structure: | Flexible |
Samples:

US$ 500/Piece

1 Piece(Min.Order)

|
Request Sample
Customization:

Available

|

Customized Request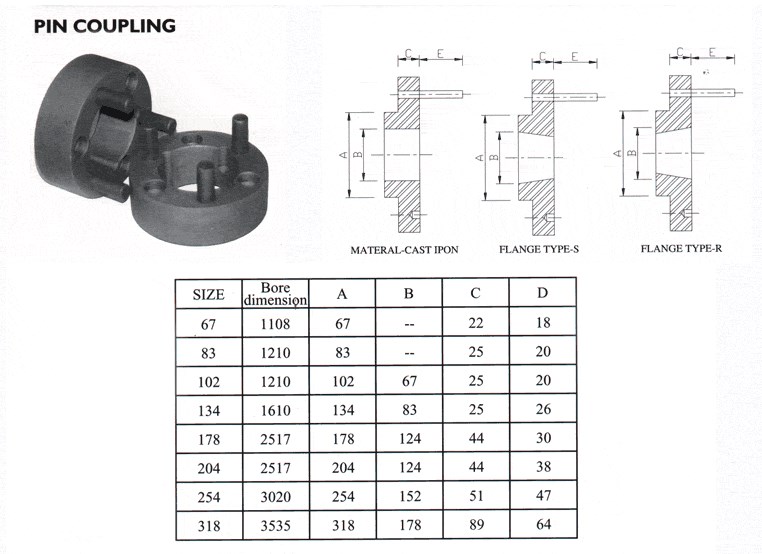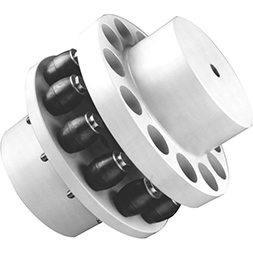 How Does a Pin Coupling Protect Connected Equipment from Shock Loads and Vibrations?
Pin couplings are designed to provide excellent protection to connected equipment from shock loads and vibrations, ensuring the smooth and reliable operation of the machinery. The unique features of pin couplings contribute to their ability to absorb and dampen shock loads and vibrations effectively:
Flexibility: Pin couplings possess a certain degree of flexibility due to the presence of movable pins. When subjected to sudden shock loads or vibrations, the pins can flex and move slightly, absorbing the impact and preventing it from transmitting directly to the connected equipment. This flexibility helps in reducing stress and minimizing the risk of damage to the machinery.
Torsional Compliance: The pin coupling's design allows for a certain amount of torsional compliance. This means that when the connected shafts experience slight misalignments or angular displacements, the pin coupling can compensate for these variations without causing additional stress or vibration in the system. This feature ensures that the machinery remains in proper alignment even under dynamic conditions, reducing wear and tear.
Damping Characteristics: The presence of movable pins introduces damping characteristics to the coupling. When vibrations occur in the system, the pins can dampen these oscillations, preventing resonance and the amplification of vibrations. This damping effect improves the overall stability and performance of the machinery.
Strength and Resilience: High-quality pin couplings are constructed from durable materials with excellent fatigue resistance. This enables the coupling to withstand repeated shock loads and vibrations over an extended period without compromising its integrity. The strength and resilience of the pin coupling contribute to the protection of the connected equipment.
Overall, pin couplings are reliable and versatile components that can effectively protect connected equipment from shock loads and vibrations. Their flexibility, torsional compliance, damping characteristics, and robust construction make them suitable for various industrial applications where shock and vibration mitigation are essential for maintaining the health and longevity of machinery and equipment.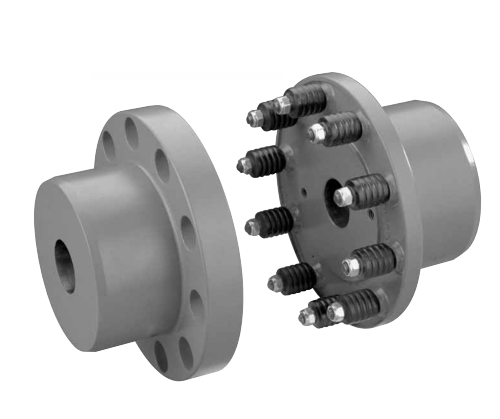 What Industries Commonly Use Pin Couplings for Power Transmission?
Pin couplings are widely used in various industries for power transmission due to their ability to accommodate misalignment and provide reliable torque transmission. Some of the industries where pin couplings are commonly employed include:
1. Manufacturing: In manufacturing processes, pin couplings are used in conveyor systems, mixers, agitators, and other machinery to transfer power between motors and driven equipment.
2. Pulp and Paper: The pulp and paper industry uses pin couplings in machinery such as pumps, fans, and rotary kilns for continuous power transmission.
3. Chemical and Petrochemical: Pin couplings find applications in chemical processing plants, refineries, and petrochemical facilities for various rotating equipment.
4. Water and Wastewater: Pin couplings are used in water treatment facilities, pumps, and blowers to transfer power efficiently.
5. Steel and Metal Processing: Steel mills and metal processing plants utilize pin couplings in rolling mills, extruders, and other equipment.
6. Food and Beverage: Pin couplings are employed in food processing machinery, packaging equipment, and conveyor systems.
7. Mining and Quarrying: The mining industry uses pin couplings in crushers, conveyor belts, and various mineral processing equipment.
8. Oil and Gas: Pin couplings are used in the oil and gas sector for pumps, compressors, and drilling equipment.
9. Power Generation: In power plants, pin couplings are used in turbines, generators, and other power transmission systems.
10. Construction and Heavy Equipment: Pin couplings find applications in construction machinery, earthmoving equipment, and other heavy-duty machinery.
11. Agriculture: In agricultural machinery, pin couplings are used in tractors, irrigation systems, and grain processing equipment.
These are just some examples of the industries where pin couplings are commonly used. Pin couplings offer versatility, ease of installation, and reliability, making them suitable for a wide range of applications in different sectors where power transmission is essential.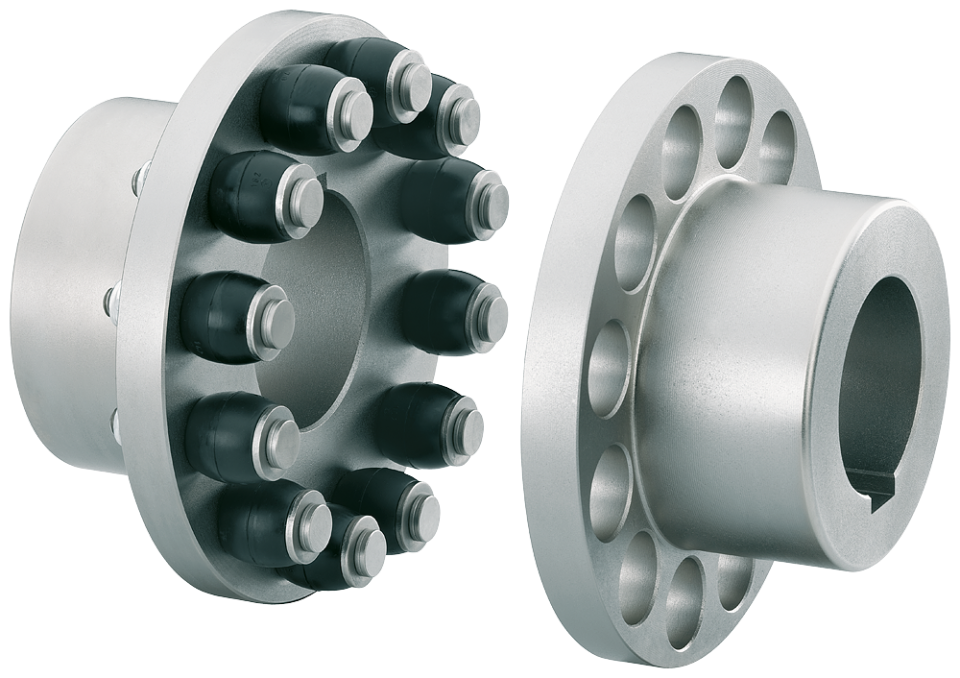 Limitations and Disadvantages of Using Pin Couplings
While pin couplings offer various advantages and are suitable for many applications, they also have some limitations and disadvantages to consider:
Misalignment Restrictions: Pin couplings can accommodate a certain degree of misalignment, but excessive misalignment can lead to increased wear and stress on the coupling components. They are not as effective at handling large angular or parallel misalignments compared to other flexible couplings like gear or elastomeric couplings.
Less Damping Capacity: Pin couplings have limited damping capacity, which means they may not effectively absorb and reduce vibrations in the system. In applications where vibration damping is critical, elastomeric or flexible couplings may be more suitable.
Noisy Operation: The rigid nature of pin couplings can lead to increased noise during operation, especially at high speeds or in applications with significant misalignment. This noise can be a concern in environments where noise levels need to be minimized.
Higher Maintenance: Compared to maintenance-free couplings like certain types of elastomeric couplings, pin couplings may require more frequent inspection and maintenance. The pins and other components may experience wear over time and need replacement.
Environmental Limitations: Some pin couplings may not be suitable for use in corrosive or high-temperature environments, depending on the materials used. Stainless steel or other corrosion-resistant materials can help mitigate this limitation.
Size and Weight: In certain applications, the size and weight of pin couplings may be larger and heavier compared to other types of couplings. This can be a consideration in applications where weight is a concern or space is limited.
Despite these limitations, pin couplings remain a popular choice for many applications where their advantages, such as simplicity, durability, and cost-effectiveness, outweigh their disadvantages. It is crucial to carefully assess the specific requirements of the application and consider factors like misalignment, vibration, maintenance needs, and environmental conditions when selecting a coupling type.



editor by CX 2023-08-11